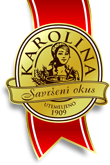 Karolina d.o.o, as a member of the Kraš d.d. group, is the leader in the production of biscuits, wafers and desserts on the Croatian market and throughout the region.
During the end of 2011 and the beginning of 2012, the implementation of the business process automation system at the central warehouse of the company (WMS) and its integration into the ERP system of SAP / R3 factory was implemented. The system, on the one hand, exchanges finished goods with production (reception, finishing, write-offs, locks) and on the other hand takes care of delivering goods to customers with special emphasis on the management of the batches and terms of delivery, as Karolina is one of the leading exporters of sweet products on markets around the world.
In May 2014, the system was upgraded to the latest, state-of-the-art WMS version.